MY 9 FAVE HOME HACKS OF ALL TIME
Hey you!

This post is dedicated to all of the wonderful people who took part in my poll on Instagram- thank you so much for choosing this topic because I was secretly rooting for it. I gave you the option between having a post on affordable (and good-looking) makeup storage solutions, or my favourite home hacks… and you chose the latter.

You might be wondering why I'm writing about 9 hacks instead of 10? It's because 9 is the coolest number in the world (and happens to be my birthday date). YASssssssssssss! Ok, No long intro from me today guys, let's get straight into it…
 
9 SUPER DOPE HOME HACKS THAT YOU NEED TO ADOPT

My go to hacks in the home are a combination of cleaning, DIY, and organisation tricks and each of them have one thing in common; they make my life 10 x easier. I am a big fan of automating processes or streamlining things so that I'm as productive as possible and can save my precious time doing other things (like staring at my body in my wardrobe mirror or texting random things to my bestie).

Anyway, let's kick off hack #1 with the most helpful way EVER to clean your blinds.
 
1. DIY TOOL FOR CLEANING YOUR BLINDS AT HOME

Let's face it. Everyone hates cleaning something in particular; whether that's a room, an object, the dogs… *cough*. But the one thing I used to really struggle with was the dust build up in between each slat of the blinds and no matter how much polish or dusting I did, there would always be that little section in the corner that wanted me to break the whole damn blind to get it clean.

But all that changed when I discovered the use of this combination of tools:
Yes, that's right…genius isn't it? Just wrap the ends of the tongs in a duster each and secure with an elastic band (or hair band like me if you're fancy) and VOILA! Your own personal blind duster.

Thank me later, boo boo!

2. MY 2-IN-1 FLOOR CLEANING HACK

This is one of my most used (and possibly favourite) hacks because I do this pretty much every other day. Since I've got dogs I'm constantly having to hoover and then mop my floors because of the gifts they like to bring in from the garden (think muddy paw prints, grass or random stones) and any hair they shed on top of that. I'm also always conscious of houses sometimes carrying a "pet smell" and would absolutely HATE if mine was one of them, so to avoid this I use the following trick:
YASSSSSSSSSSSS! Floor cleaning goals 101. After I've hoovered my floors, I fill a bucket with warm soapy water and add a small (and I mean small otherwise you could damage your floors) dash of laundry detergent to the water. Not only does this clean the floor exceptionally well, but it leaves my house smelling super sexy… I love the smell of fresh laundry baby!
 
3. CLEANING GLOSS FURNITURE

I guess this one is less of a hack and more of a "use your common sense" trick, but since common sense isn't that common (and wasn't for me the first time I cleaned anything high gloss), I thought I'd share this technique with you all.

As you've probably seen, most of bedroom furniture has a high gloss finish; as does my gorgeous new Scacco TV unit that I got from Wayfair a few months ago. Cleaning gloss furniture is VERY different to cleaning many household furniture items, because doing it the wrong way could f*ck the whole thing and leave you shedding a tear over Desperate Housewives re-runs.
Like most people, I once cleaned my gloss furniture using an anti-bacterial wipe and suffered a severe heartbreak; and then as if I hadn't learned my lesson, then went back in again with an anti-bac spray and sponge… Yes, I know, if you're a logical person you're probably thinking "what a tit"… But I was convinced I knew what I was doing…and was wrong…. AGAIN!

So in case you hadn't already gathered, that is how absolutely NOT to clean your gloss furniture. But if you want to clean it the right way, you will need the following MAGICAL materials:


Ok, so this wasn't as MAGICAL as I made it sound, but at least you know how not to do it right? And to be fair, the e-cloths really are amazing at leaving a streak free finish on gloss furniture since they are made for using with just water instead of chemical products like the standard cloths. However, my £2.99 B&M microfiber cloths work just as well. I use the general cloth and then the glass & polish cloths for a crystal finish… and BOOM! D. U. N… DONE!

 
4. LIGHTING A LOW CANDLE WICK

If you burn candles as much as I do you'll get to the dreaded part of trying to light it when the wick gets really low or if the candle itself is on its last burn. You've also probably gone through the traumatic experience of either burning your fingers in the process of trying to light a candle when it gets to this stage, or by performing the "magic tilt" which is where you thought if you could just tilt the candle at the perfect 45 degree angle you'd finally be able to light it (and spilling hot wax out onto your finger and the floor in the process).

Well I have something you can use to tackle this problem that is probably already sitting in your kitchen cupboard:
This has saved me a good finger burn or two on several occasions; just be careful as sometimes the flame can be quite large if you don't light the very tip of the spaghetti.

 
5. HANGING PICTURES WITHOUT NAILS

I know lots of you live in private rented accommodation or new build properties, where you're either not permitted to hang things on the walls because of the marks they leave behind (boo), or because you've been advised not to for the first year living in your property (usually if you live in a newly built home).

Don't worry though, because I have a compromise for you that means you can get your favourite photos or artwork up on the walls without the use of nails, any drilling or relying on the solid structure of the wall to keep it afloat.

Feast your eyes on these babies:
I love the command brand because they are DIY friendly (and are for everyone). I bought these bad boys on offer in Morrisons not too long ago, but they come in all different shapes and sizes and the small size start from about £2.75 at Amazon. Trust me guys, these are a life saver!

You can also purchase other items from the command range that would come in handy around the house. Like these hooks:
Which could be used to hang your kitchen utensils on the wall...
or these bad boys to clip your fairy lights or christmas lights on the ceiling or where ever.
6. VINEGAR FOR EVERYTHING!

I've heard quite a few times amongst homemakers, cleaners and just pretty much everyone that the only cleaning product you need in your house is white vinegar; and I couldn't agree more.

I use vinegar for pretty much everything and particularly in kitchen and bathroom!

Vinegar works well as a cleaner because of it contains acetic acid and is therefore great at removing limescale or rust. Here's a list of a few typical cleaning jobs that you probably already do around the house that would work well with vinegar:
 
Cleaning your bathroom or kitchen taps

Cleaning the kitchen drawer handles

Cleaning the kitchen or bathroom sink area
 

7. COMPARTMENTALISE LIKE YOUR LIFE DEPENDS ON IT!

One thing that I love about my mum is that she is so damn organised, and actually, she inspired this next home tip with her super organised kitchen drawer compartments.

Does everyone have that one kitchen drawer at home that everything gets thrown in? Me too! From pens, to screwdrivers, to loose nails and sellotape; there's one kitchen drawer that I have that's pretty much always unorganised and I am pretty convinced it's because I don't have the cool little storage system my mum and dad have going on in their drawers.

Atleast once a month, I get absolutely fed up trying to open the kitchen drawer whilst something gets stuck…so once I finally get it open, I clear everything out and arrange it all neatly; only for it to get messy again within a week or so. The answer is to compartmentalise EVERYTHING.

By everything, I mean EVERYTHING. Technically, all drawers could do with a little organisation. Like seriously, how much easier would it be in the mornings to find a pair of tights if they weren't stuffed in with your socks?

Here are my favourite compartments for getting your drawers organised (next stop: life organisation).
Storage box with 5 different compartments
£10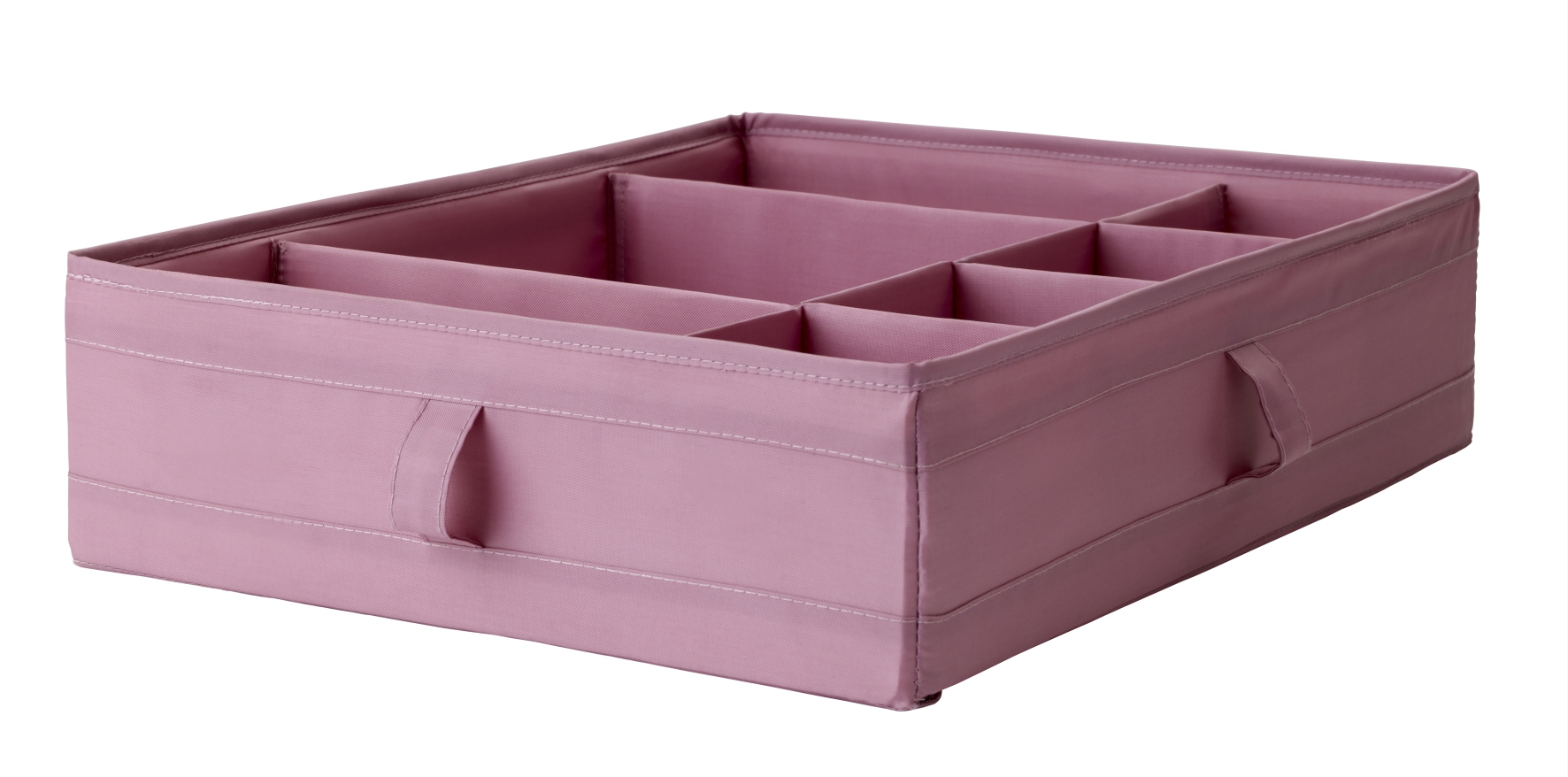 IKEA SKUBB COMPARTMENTBOX
Perfect for organising socks, undies or ties etc.
£6 each


8. ORGANISE YOUR WEEKS CLOTHES ON A SUNDAY

Whilst on the subject of sorting your sh*t out (or in the polite way, getting more organised), raise your hand if you wake up every morning and waste about 10 minutes or longer of your time trying to figure out what you're going to wear for the day? *doesn't raise hand*

Gone are those days for me, because I've dedicated Sunday's to getting myself super organised for the week ahead and that includes making sure I have atleast 5 days worth of outfits planned.
Here's the exact steps I take on a Sunday when planning my outfits:

1. Plan for the weather
2. Choose from dresses/ pants/ blouse & tops etc and hang one days worth of clothes on each hanger
3. Choose accessories and hang over top of hanger or clipped to clothing/ in pockets where I can.
4. Choose your shoes
5. Prepare my handbag for the week ahead
 
I also like to mix and match, so I don't allocate clothing to specific days unless I have something going on that I need to look more formal for etc; so whatever the occasion, I adapt my clothing and would know that I'd be wearing it on that specific day. Otherwise, I just pick out of the 5 outfits and wear whichever I feel like on the day. (Mini learn: I tend to dress to my mood).
 
9. AIRDUST AWAY

Ok so the way that this product has changed my life guys. And I don't just mean at home, but also at work. My little home office is coming together really well (sneak preview here), and one of the many things that gets neglected when cleaning, even though we are using them the majority of the time, is the keyboard…and in fact, so many other types of office equipment.

So obviously, some office equipment is easier to clean than others. The keyboard, for example, is one of those items that isn't as straightforward to clean since there are lots of nooks and crannies in the keys themselves. So it's ok giving them the once over with a duster or wipe, but actually, how clean does that make it?
That's where the air duster comes in!

I remember being OBSESSED with using these at my last job because there is something super satisfying about air dusting underneath each individual key and watching (this part is disgusting) any dust or food particles jump out at you… yes, it sounds gross…but you're grosser because I bet you don't even clean ya damn keyboard…
EXACTLY!

Anyway, I used to buy these in bulk from office depot but you can pick them up from Amazon for about £3. This is what they look like...
Poundland also sell them but I'm not sure they come with the tube (small plastic straw type thing that squeezes into the nooks and crannies really well).

But anyway, that's me all done babes. FYI- Good Housekeeping also have some super cool home hacks too- and if you get sucked in by these things as much as I do you'll love it. Read it here.
I hope you found some of these useful. Did you have a favourite out of the list above? If you have any go to hacks yourself I'd love to hear them. Drop me a note in the comments below so that we can get everyone HACKING away :)

Sx