HOW TO MAKE A PENDANT LIGHT THE FOCAL POINT OF YOUR SPACE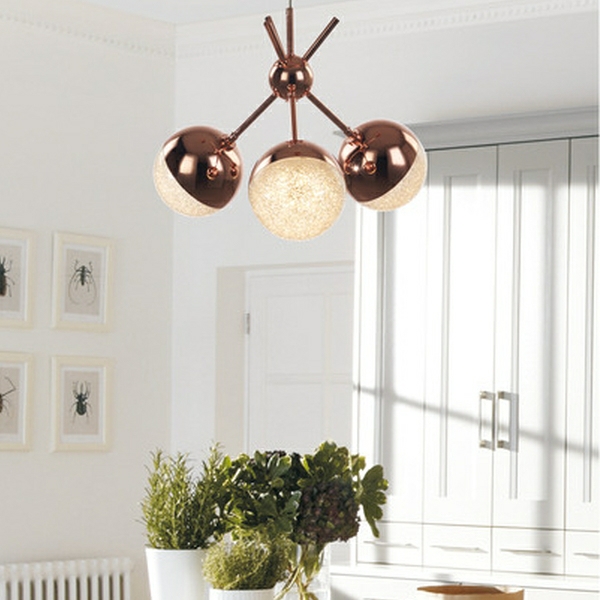 Pendant lights can be a stylish feature in any room, provided that you follow a few simple interior tips to guarantee it's what your eyes are drawn to when you enter a space.
If you're looking to create some pow wow eye candy yourself using pendant lights, or just want to make sure that your pendant light is the feature of your kitchen, dining room or anywhere else you might be placing it, follow these simple tips.
The right size
It sounds obvious, but the first place to start is really by considering the size of the room that your feature lighting will live in. If it's a big space you're going to need a large pendant light, or perhaps even multiple to ensure that it (or they) catch your eye when you walk into the room. However, if it's a smaller space then you might need to consider a mini pendant light so it's not too overpowering and doesn't dominate the space.
The correct placement
Whilst some spaces might need the pendant to be central in the room, if you're hanging it above something, like a kitchen island or a dining table, it might not be possible to have it central to the ceiling. In this case, just make sure that you consider other elements like the design and layout of the whole room before having your pendant lighting installed.



Consider the other features
Again, there are lots of other factors that should be considered when choosing the overall type of pendant lights for your space. Does the room you're wanting to place the pendant light in have lots of other features, such as big windows or a fireplace? These things can distract from the light and make the room look too fussy so it might be worth considering a different lighting style in rooms that are already busy.
Functional as well as feature
Remember that your pendant light is likely not only to be serving as a feature in the room, but it'll need to be used functionally as well. You have to, have to, have to make sure that you buy the right size light that can adequately light up the room it'll be featured in, otherwise it'll really only be their for decoration.


Hung at the right length
Another consideration to make when purchasing and installing your pendant light is around making sure that the light is hung at the right length. Well, duh… right? Wrong! I've got this wrong myself so many times and it's important for me to stop you from doing the same! Obviously, you won't want it hung too low where it can catch on things or hit people, but it's worth mentioning since this has already happened to some of us. At the same time though, you don't want the light to sit too high where it can't really be seen and becomes part of the ceiling rather than a feature so make sure that whoever installs the lights has the perfect balance.

Which brings me onto my last point…
The important thing to remember when installing your pendant light, is that you have a professional do the work if you're not trained to do so. DIY is never fun when you get something totally wrong (and that is also potentially very dangerous) so never attempt to play with the electricals and cables etc unless you know what you're doing and have the training to back it up.

And there we are…my tips for making a pendant light the focal point of your space. Do you have any of your own that you want to share? If so, I'd love to hear them. Drop them in the comment box below so that I can add them to my list! :)

Have a lovely weekend.

Sx
NB: this post was sponsored by Light Supplier.